What's Up?
The vultures out-smarted me this morning. There were more than 50 sitting on my spot when I drove down with a load of rotten, smelly fish skins and carcasses. Thus, they walked to breakfast. A few did fly in but there was almost no wind at all.
Today is Saturday 11 November. I will be up very early and driving the 90 minutes to Sebastian Inlet in hopes of a spectacular sunrise. The wind direction and sky conditions are looking good. Will the Ospreys be diving? Who knows. Wherever you are a whatever you are doing, I hope that you too have a great day.
Please remember to use the B&H and Amazon links that are found on most blog pages and to use the BIRDSASART discount code at checkout when purchasing your new gear from Bedfords to get 3% back on your credit card and enjoy free second-day air FedEx. Please, also, consider joining a BAA IPT. You will be amazed at how much you will learn!
You can find some great photo accessories (and necessities, like surf booties!) on Amazon by clicking on the Stuff tab on the orange/yellow menu bar above. On a related note, it would be extremely helpful if blog-folks who, like me, spend too much money on Amazon, would get in the habit of clicking on the Amazon logo link on the right side of each blog post when they shop online. As you might expect, doing so will not cost you a single penny, but would be appreciated tremendously by yours truly. And doing so works seamlessly with your Amazon Prime account.
If an item — a Delkin flash card, or a tripod head — for example, that is available from B&H and/or Bedfords, is also available in the BAA Online Store, it would be great, and greatly appreciated, if you would opt to purchase from us. We will match any price. Please remember also to use my B&H affiliate links or to earn 3% cash back at Bedfords by using the BIRDSASART discount code at checkout for your major gear purchases. Doing either often earns you free guides and/or discounts. And always earns my great appreciation.
B&H Simplified
To ensure that I get credit for your B&H purchases, you can always click here. The tracking is invisible but greatly appreciated. And, you can use your PayBoo card. You must use the website to order. B&H will reopen on Fri April 14. Thanking me for the past 4000 educational blog posts could not be any easier and will not cost you one penny. Please shoot me your B&H receipt for major purchases.
Bedfords Simplified
Click here to start your search. Choose standard shipping, and when you get to the payment page, enter BIRDSASART in the discount code box and hit apply. You will be upgraded to free second day air Fed-Ex and receive 3% cash back on your credit card once your stuff ships. Either is greatly appreciated by yours truly.
B&H
Many folks have written recently stating that they purchased a Sony a1 from B&H and would like their free membership in the Sony 1 Info and Updates Group, a $150.00 value. When I check my affiliate account, their orders have not been there. When I let them know that they get credit for B&H purchases only if they use one of the many B&H affiliate links on the blog or begin their searches with this link, they are always disappointed. If in doubt, please contact me via e-mail and request a BH link. I am always glad to help and to guide you to the right gear.
Bedfords Amazing BAA Discount Policy
Folks who have fallen in love with Bedfords can now use the BIRDSASART coupon code at checkout to enjoy a post-purchase, 3% off-statement credit (excluding taxes and shipping charges) on orders paid with a credit card. The 3% credit will be refunded to the card you used for your purchase. Be sure, also, to check the box for free shipping to enjoy free Second Day Air Fed-Ex. This offer does not apply to purchases of Classes, Gift Cards, prior purchases.
Visit the Bedfords website here, shoot Steve Elkins an e-mail, or text him on his cell phone at (479) 381-2592.

Important Note
As an Amazon Associate, I earn a small percentage when you purchase from Amazon after using any of the Amazon links on the blog (including the logo-link on the right side of each blog post page). My affiliate link works fine with Amazon Prime and using it will not cost you a single cent. Huge thanks, BTW 🙂
Gear Questions and Advice
Too many folks attending BAA IPTs and dozens of photographers whom I see in the field and on BPN, are — out of ignorance — using the wrong gear, especially when it comes to tripods and more especially, tripod heads. And the same is true in spades when ordering new camera bodies or lenses. My advice will often save you some serious money and may help you avoid making a seriously bad choice. Please know that I am always glad to answer your gear questions via e-mail. If you are desperate, you can try me on my cell at 863-221-2372. Please leave a message and shoot me a text if I do not pick up.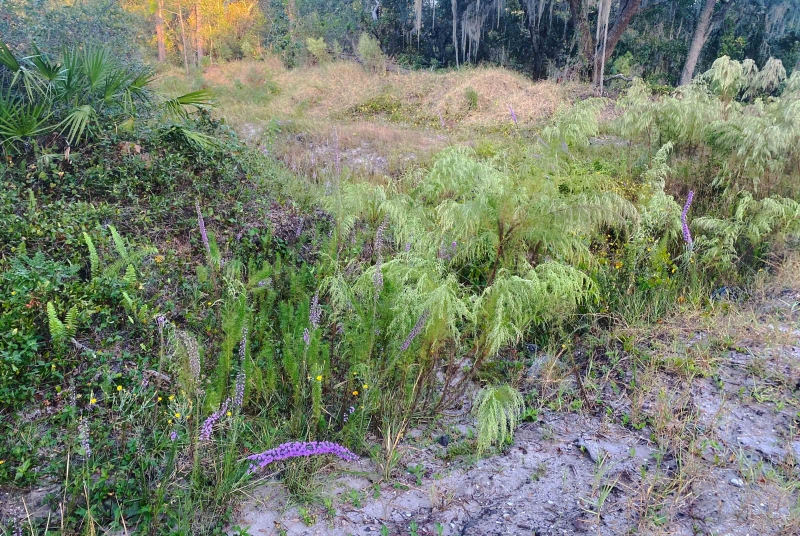 I-Phone 11+ snap

Stand of Blazing Star blossoms — most past peak
A Picture is Worth a Thousand Words. And a Tip
In the New Approach to Blazing Star Blossom Photography blog post here, I described the situation as below but figured that a picture would be worth a thousand words. From the morning of 9 November.
I stood on Toronaja Drive facing NW. The drainage canal is out of sight in the center of the frame. Most of the blossoms were well past peak bloom. That with the exception of the flower in the lower left/center. On the 5th, I worked with the 400mm f/2.8 on a tripod well to the left of my vantage point for the I-Phone shot above.
In similar situations, you can handhold your lens and move around, changing your perspective while looking for a shot. We call this "composing through the viewfinder." Once you see something that catches your eye, set up the lens on the tripod and fine-tune the image design. Working in shaded situations as I was makes it much easier to find the shot as you are not restricted by sun angle.
Note that the yellow tones in each image below were the result of the sun hitting vegetation in the background. After reading the text that follows each image below, be sure to scroll down to read the wildly varying comments.
The Situation
Just about a block from my house, a stand of Blazing Star blooms every year in November where one of the many run-off canals in the neighborhood meets the road, in this case, Toronto Drive. I have photographed the flowers in previous years with my Canon 180mm macro lens, the Metabones adapter, and an a7R IV or more recently, an a-1. As I never came up with anything interesting, I tried a new approach on Sunday morning by working with the tripod-mounted 400mm f/2.8 lens. The super-fast aperture worked perfect for the shaded conditions — there are fairly dense pine woods on both sides of the road. The trees also acted as a windbreak protecting the flowers from the 15mph breeze down by the lake.
The Same-Old Depth-of-Field Question in a Different Form
Why did the wide open f/2.8 aperture provide more than enough d-o-f to render the entire blossom sharp?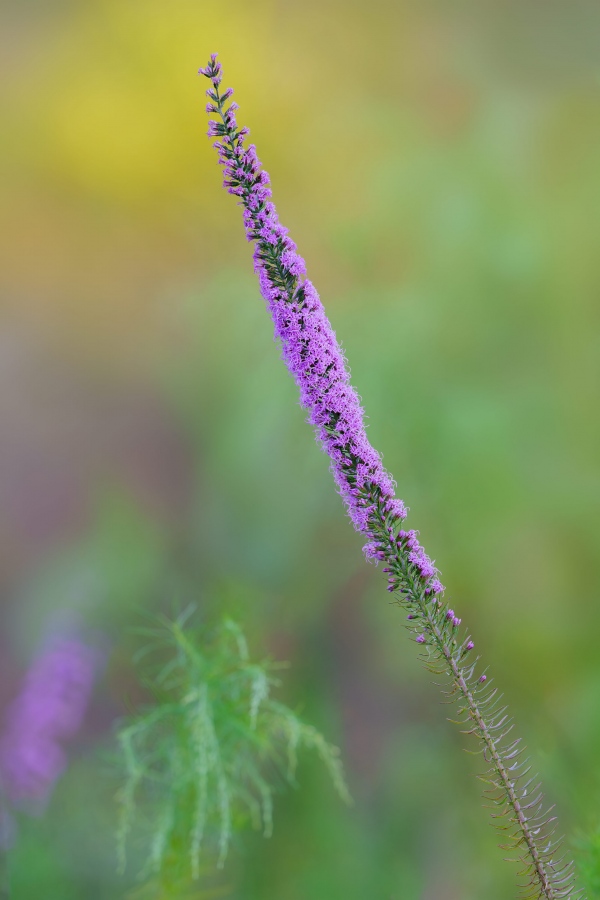 This image was also created on 5 November 2023 about one block from my home at Indian Lake Estates, FL. Crouching just a bit, I used the Robus RC-5558 Vantage Series 3 Carbon Fiber Tripod/Levered-Clamp FlexShooter Pro-mounted Sony FE 400mm f/2.8 GM OSS lens and The One, the Sony Alpha 1 Mirrorless Digital Camera). The exposure was determined via Zebra technology with ISO on the Thumb Dial. ISO 640. 1/125 sec. at f/4 (stopped down one-stop) in Manual mode. When evaluated in RawDigger, the raw file exposure as determined to be dead-solid perfect (ho hum). AWB at 8:33:25am in the shade on a sunny morning.
Tracking: Expand Spot/AF-C performed to perfection. Be sure to click on the image to enjoy a high-res version.
Image #2: Blazing Star blossom (and more)

Your browser does not support iFrame.
The Comments
Guido Bee — November 8, 2023 at 9:31pm
As to depth of field, the 20 foot distance helps. A 400mm lens on a full frame at 2.8 will never have much dof, but subject to lens distance is key
Arthur Morris/BIRDS AS ART — November 10, 2023 at 8:34pm
That is correct, sir. a
John Storjohann; November 8, 2023 at 1:35pm
Good morning, Artie;
I like the first image more (see a) but there are qualities I like about both images:
a) In the second image, as others have mentioned, the green foliage in the lower left is too bright/too well defined and draws my eye to it.
b) To my eye, it looks like you were in a slightly different position for the second image; I like how it moves diagonally through the frame and I like how it intersects the yellow background colors near the top of the frame.
c) It looks like in the second image there was a slight change in light as well; the colors in the background seem brighter, with better contrast.
All the best. John
Arthur Morris/BIRDS AS ART — November 10, 2023 at 8:37pm
Hi John,
a- That o-o-f foliage is a huge plus for me! Different strokes …
b- Yes. I moved around a lot as there was no sun on the flowers.
c- A different angle with some light on the background.
thanks for commenting, with love,
a
Keith Solberg — November 8, 2023 at 2:34am
Hi Artie,
I prefer the 1st image over the 2nd. I like the angle of the 2nd and the yellow, but the plant in the lower left is too much of a distraction for me. The 1st flower looks like it's closer to its peak, there are more flowers and the small green leaves near the flowers are not yellowing like on the 2nd. It's similar to a wildflower up here in the Pacific Northwest and on those plants the flowers die off from the bottom upward. I suspect that your flowers are similar. You can always monitor it if you have the time. I'm not going to wade into the DOF question. I'll read and learn if what I think is correct or not.
Arthur Morris/BIRDS AS ART — November 8, 2023 at 6:40am
Thanks, Keith. As for the d-o-f question, reading my replies to others here would shed some light on the situation.
with love, artie
Dane Johnson — November 7, 2023 at 3:11pm
Hi Artie. Both are great images. Image 2 holds the edge for me due to the angle of the stalk, which creates more interest and the balancing of the yellow background in the upper left and the out-of-focus plant and flowers in the lower left. The dof is a combination of aligning the flower stalk parallel to the sensor and the distance from the flower. This lens has a minimum focusing distance of just less than 9ft. The dof at 9 ft. at f/2.8 is 9/32 in. The dof at 12 ft. increases to 1/2 in. This lens can make some incredible close up images from a "not so close" distance.
Arthur Morris/BIRDS AS ART — November 7, 2023 at 8:55pm
Thanks, Dane!
You wrote, "The dof is a combination of aligning the flower stalk parallel to the sensor and the distance from the flower."
Of those two, which is the vastly more important factor?
And BTW, the two focus distances were 7.08m for Image #1, and 6.27m for the second photo. Those convert to 22.3 feet and 20.57 feet respectively. In other words, I was a good distance away from relatively large blossoms; each is more than a foot in length. The total d-o-f at 21 feet at f/2.8 is 0.13 feet, or about 1 1/2 inches. As the flowers are no more than an inch in diameter, the d-o-f at a distance is more than enough to cover each blossom.
with love, artie
ps: Yes, a "not so close distance."
Elinor Osborn — November 7, 2023 at 2:25pm
Why did the wide open f/2.8 aperture provide more than enough d-o-f? the camera was square to the whole stalk.
I like #1 better because pf the softer background colors being mostly horizontal against the vertical stalk, the oof purple showing on the left, and the arc of leaves at the base of the plant. In #2 the diagonal line of the stalk is good. The starburst of leaves and spot of oof purple balance the stem well. Just am not keen on the strong yellow.
Arthur Morris/BIRDS AS ART — November 7, 2023 at 8:42pm
Thanks for the comments, Elinor. As for the d-o-f question, there is a more important factor involved …
a
Larry Master — November 7, 2023 at 11:17am
Hi Artie – Nice shots of a beautiful flower, Dense Blazing Star (Liatris spicata). I like both images but perhaps the second image more, likely because of the diagonal leading one's eye up the stalk to the top with a beautiful yellow background. The plants in the lower left I think add compositional balance to the image.
Arthur Morris/BIRDS AS ART — November 7, 2023 at 8:40pm
Thanks for the species ID Larry. And for your comments.
Do you know which flower is farther advanced in terms of bloom?
with love, a
Kevin Hice — November 7, 2023 at 10:49am.
Good morning Artie. Both fine images for me the best one is the first although I am a sucker for the yellows in the second image. All is sharp at 2.8 because the flower is all on the same plane. I might have gone with the second image but the plant anchored in the lower left is distracting. It pulls my eye away from the main subject as it looks like it is coming out to grab you. Not familiar with the plant it seems like the second image is at full development looking closely at the pistils. I need to do more flowers.
Arthur Morris/BIRDS AS ART — November 7, 2023 at 8:38pm
Thanks, Kevin. I find flowers a pleasant change and a challenge. As for the d-o-f question, there is a more important factor than the one you mentioned.
with love, a
Dave Goldberg — November 7, 2023 at 8:31am
Hi Artie,
1) I believe image #2 has fuller blossoms at mid length down the bloom
2) Personally, I'd go with image #2 because the blossom is fuller, the angle is more interesting to me, and the plant in the bottom RHS is better placed and less distracting than #1
My guess is that you have better DoF with the 400mm because you were standing positioned further away when you took that shot, so the increased distance more than offset the wide open aperture.
Arthur Morris/BIRDS AS ART — November 11, 2023 at 2:35pm
Thanks, Dave.
While #2 is my favorite by far, it seems to that the blossom in the first image is fuller and more complete. No need to guess — the biggest factor in play is the distance to the subject; the greater the focus distance, the deeper the d-o-f.
My Answers, Calls, and a final comment
1- Which image features the more complete, more perfect blossom?
For me, it seemed obvious that the blossom in Image #1 was more complete and way more beautiful than the blossom in Image #2.
2- Which image is the stronger, more interesting photograph. Why?
Despite the fact that the first image featured a more beautiful blossom, I felt that Image #2 was far stronger because of the diagonal line of the blossom and because of the additional yellow and purple tones.
My Final Comment
I was glad to see so many different opinions on the two featured images. Funny how the yellow tones in the 2nd image were a negative to some folks and a positive to others. Funny how the defocused blossom in the lower left corner of Image #2 was a negative to some folks and a positive to others.
Remember that judging photographs is 100% subjective — there is no right or wrong. But playing the game will always help you to be in a better position to evaluate your own work.
Typos
With all blog posts, feel free to e-mail or to leave a comment regarding any typos or errors.