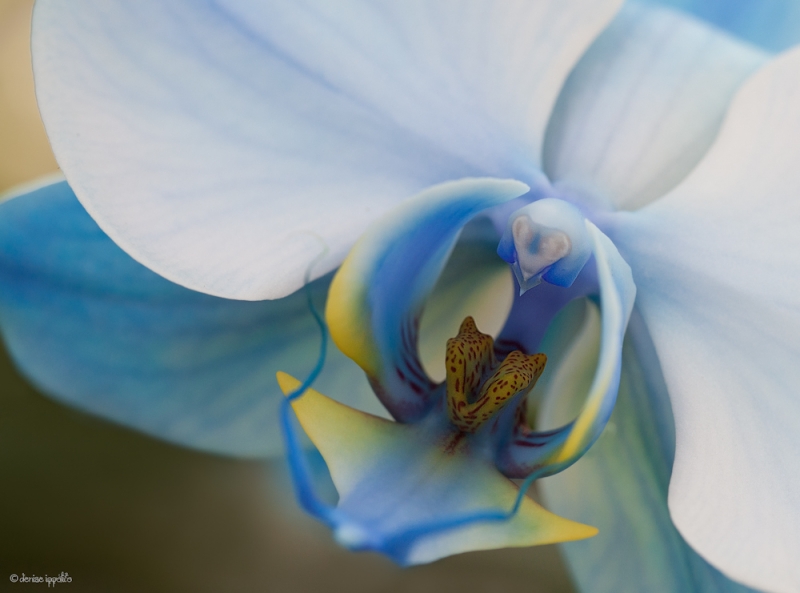 This image, "Seductive blue diamond orchid," was created by Denise Ippolito with the Canon 100mm macro lens and the EOS-5D. ISO 400. Evaluative metering +2/3 stop: 1/200 sec. at f/4.5 Click on the image to enjoy a larger version.
Denise will open the proceedings at 9am on Saturday with her "Blooming Ideas/Creating new and different images of flowers and trees" segment. Don't miss it.
The gear above has been replaced by the following:
Your browser does not support iFrame.
What Does WIW Mean?
WIW stands for Walk-Ins Welcome. Walk-ins are indeed welcome at the NYC Seminar. You can bring a check, cash, or a credit card with your driver's licence. When? This coming weekend at the Hilton Garden Inn on Staten Island. Alternatively, you can call Jim today before 5pm or Friday before noon and register by phone. Click here for more info, for the complete schedule, and to learn about the valuable registration incentives that include a free copy of Digital Basics. On Saturday we will teach you how to capture great images in the field and on Sunday how to evaluate and process (optimize) those images. Throughout the weekend we will be working hard to help you become more creative both in the field and at the computer.
It is 8:47 am on December 6, 2012. I am sitting on the Amtrak Auto Train going at about 70mph headed towards Lorton, VA. My laptop is plugged in and I am on line via a tethered wireless connection courtesy of my Verizon Android Razr 48 cell phone. Man, what an amazing world we live in.
I just finished working on my "Tools of the Trade/Choosing and using lenses for bird and wildlife photography" segment and am excited about presenting it on Saturday at 11am. It is truly amazing how often the longest lens in your arsenal is the worst in your bag for a given situation. This afternoon I will be working on the "Seeing the Situation" segment where Denise and I will teach you to see and think like a pro.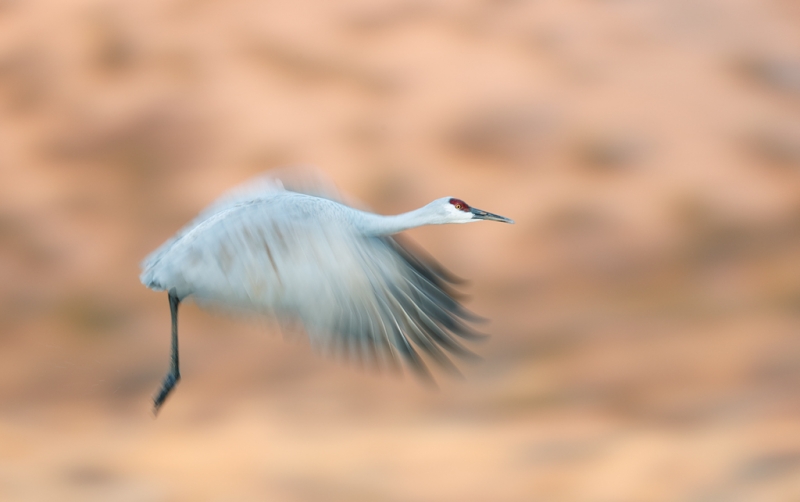 This image was created with the tripod-mounted Canon EF 800mm f/5.6L IS USM Autofocus lens and the Canon EOS-1D X digital SLR . ISO 400. Evaluative metering +1 1/3 stops off the sky above the mountains in very early morning light: 1/60 sec. at f/6.3 in Manual mode. Central sensor/AI Servo Surround/Rear Focus AF active at the moment of exposure. Click here if you missed the Rear Focus Tutorial. Click on the image to see a larger version.
Once it gets to be 7:45 am I switch the exposure to only +2/3 stop off the sky as the meter gets smarter as the sun gets brighter on clear days. But the meter is never as smart as a competent photographer who understands exposure. See the section on Exposure Theory in the original The Art of Bird Photography and Exposure Simplified in ABP II. Save $10 by purchasing the two book bundle. Learn more about each book and about Digital Basics in "98.6 Per Cent" here.
The seminar "Creating Pleasing Blurs/Using slow shutter speeds, panning, camera movement, and more" segment is scheduled for Saturday at 3:15pm. Do consider joining us.
Your browser does not support iFrame.
Pet Peeve
Regular readers know that one of my pet peeves is folks who have 3,000, $5000, $10,000, heck, even $20,000 or more worth of great gear and assume that their purchases will make them better photographers. Study? Learn? Practice? No way. They believe that as long as they spend lots of money on great lenses and camera bodies that their skills will improve. Not! If you live within a few hours of Staten Island and wish to become a better photographer make plans, as above, to join denise and me this weekend for tons of learning and fun. Not to mentions zillions of great images.
Shopper's Guide
Thanks a stack to all who have used our B&H affiliate links to purchase their gear as a thank you for all the free information that we bring you on the Blog and in the Bulletins. Before you purchase anything be sure to check out the advice in our Shopper's Guide.
Shop B&H
Support the BAA Blog. Support the BAA Bulletins. We want and need to keep providing you with the latest free information, photography and Photoshop lessons, and all manner of related information. Show your appreciation by making your purchases immediately after clicking on any of the links above. Remember, B&H ain't just photography!
And from the BAA On-line Store:
LensCoats. I have a LensCoat on each of my big lenses to protect them from nicks and thus increase their re-sales value. All my big lens LensCoat stuff is in Hardwood Snow pattern.
LegCoat Tripod Leg Covers. I have four tripods active and each has a Hardwood Snow LegCoat on it to help prevent further damage to my tender shoulders 🙂 And you will love them in mega-cold weather….
Gizo GT3532 LS CF Tripod. This one replaces the GT3530LS Tripod and will last you a lifetime. Learn more about this great tripod here.
Mongoose M3.6 Tripod Head. Right now this is the best tripod head around for use with lenses that weigh less than 9 pounds. For heavier lenses, check out the Wimberley V2 head.
Double Bubble Level. You will find one in my camera's hot shoe whenever I am not using flash.
The Lens Align Mark II. I use the Lens Align Mark II pretty much religiously to micro-adjust all of my gear an average of once a month and always before a major trip. Enjoy our free comprehensive tutorial here.
BreezeBrowser. I do not see how any digital photographer can exist without this program.
Delkin Flash Cards. I use and depend on Delkin compact Flash Cards and card readers most every day. Learn more about their great 700X and 1000X cards here or about my favorite Delkin card here.