Shades of Pink and Blue
When we arrived at Little Estero Lagoon on Day 3 of the SW FLA IPT we were in place well before sunrise. I grabbed the 24-105 from my Xtrahand Vest and went to work to take advantage of the lovely pinks and blues opposite the sunrise on a clear morning. I saw the lovely arrangement of birds as I was setting up and was glad that I worked fast enough to get this lovely juxtaposition. The three cormorants that swam into the scene were an added plus.
When hand holding in low light conditions I like to work in Tv mode, select a fast enough shutter speed, and dial in the exposure compensation. Since I have set ISO safety shift on all of my bodies the camera will set the needed ISO. Here I should have chosen a much slower shutter speed to allow for a much lower ISO. As taught to me by Denise Ippolito I used a layer of Filter/Blur/Surface Blur at 3/4/0 to smooth the background.
Changing Lenses
As I wanted to come in tight on this Snowy Egret in pink water I put the 5D III onto the 300. When I change lenses in the field I do not bother to turn off the camera; I have never had a problem….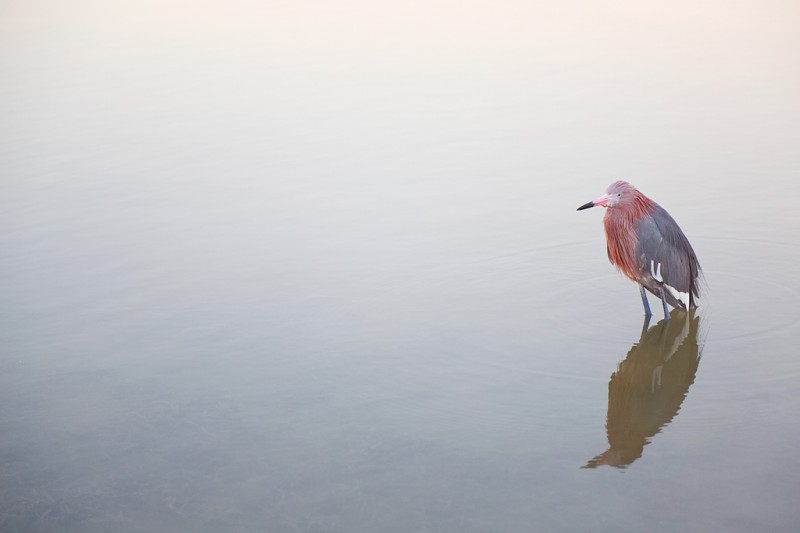 This pied, dark morph Reddish Egret was photographed with the Canon 24-105mm f/4L IS EF USM AF Lens hand held at 105mm with the Canon EOS 5D Mark III Digital camera body. ISO 2500. Evaluative metering +1 2/3 stops in Tv mode: 1/320 sec. at f/4.
Central sensor Surround/AI Servo/Rear Focus AF on the bird's eye and recompose. Click here if you missed the Rear Focus Tutorial. Click on the image to see a larger, sharper version.
Short Lens as Long Lens
I switched lenses again and went back to trying to create another interesting bird scape with the 24-105, my favorite short zoom, B-roll, all-purpose lens. But this pied, dark morph Reddish Egret was quite tame so I went "long" by zooming to 105mm to create this image while working with the full frame body.
Your Favorite?
Take a moment to leave a comment and let us know which of the three images here is your favorite. And be sure to let us know why.
Seriously Huge B&H Savings on Nikon and Canon Gear
Nikon
For the first time in many years NIKON is going to be deeply discounting many legacy pro lenses individually for the next 2 weeks only with discounts up to $350. There are also many amazing deals on NIKON Buy together and Save packages as well. Click here to save.
Nikon DSLRS Bundles with Lenses & Flash: Save up to $750. Click here to save. Make sure to add each item to your shopping cart to see the absolute lowest price.
Canon Lenses & Speedlites: Save Up to $300
Click here to save. Make sure to add each item to your shopping cart to see the absolute lowest price.
Canon Buy Together & Save: Save Up to $400
Click here to save.
EOS-1D X AF Guide
You can learn exactly how I set up and use this camera's great new AF system in our EOS-1D X AF Guide. And you can learn about our camera User's Guides here.
Southwest Florida Site Guide
Several folks have written recently asking why this great guide has not been updated since 2007. The answer is that I have not discovered any new hotspots and that the good places remain good and the great places remain great. We found the Snowy Plovers on Wednesday in the exact spot described in the Southwest Florida Site Guide. Go figure.
Africa Photo Safari: August 2013
Serengeti Summer Migration Safari: 12 full and two half-days of photography: $12,999/person double occupancy. Limit: 12/Openings: 9.
Leaders: Todd Gustafson, Denise Ippolito, and Arthur Morris. Tanzania Summer Migration Safari. Leave the US on August 3. Day 1 of the safari is August 5. We will visit Tarangire for great dry season photography, Seronera Lodge–aka Leopard City!–twice, Central Serengeti for big cats, Northern Serengeti and our mobile tented camp to search for river crossings, and the spectacular wildlife spectacle that is Ngorongoro Crater. Our last morning of photography is August 18. Fly home from Arusha, Tanzania on the evening of August 18.
A deposit of $4,000 is due now. This trip is a go. Happy Campers only please. Guaranteed maximum no more than 12 photographers plus the three great leaders. 3 persons/van. You get a row of seats for yourself and your gear. In addition to rotating in-the-field instruction with each of the co-leaders, artie, Todd, and denise will be available for image sharing and review and informal Photoshop instruction during breaks and after meals. And–with apologies to Miss Manners–even during meals!
Once we cash your check you will be strongly advised to purchase travel insurance. You may wish to consider using Travel Insurance Services. Do understand that most policies must be purchased within two weeks of our cashing your deposit check. The 2nd payment of $4000 is due MAR 30, 2013. The final payment/balance is due MAY 30, 2013. Sign up with a friend or a spouse and apply a $300 per person discount.
The lodging is all first class. Please e-mail to request a PDF with additional details, the complete itinerary, and a description of the unparalleled photographic opportunities that we will enjoy. Please e-mail or call me on my cell at 1-863-221-2372 with any questions. I hope that you can join us.
You can see a collection of my images from previous safaris here.
Weekend Creative Nature Photography Seminar, Tampa, FL: February 23 & 24, 2013: $149
You are invited to join Denise Ippolito and me on the weekend of February 23-24 on the outskirts of Tampa, FL for a great weekend of fun and learning. Learn to improve your photography skills, your skill at designing images in the field, your creative vision, and your image optimization skills. Sunday critiquing session. Click here for additional details and the complete schedule.
Fort DeSoto Morning In-the-Field Workshop/Two Slots Left!
Fort DeSoto In-the-field Workshop: FEB 25. Pre-dawn -10:30am. Strict Limit 16/2 Openings. Includes a great working lunch: $275.
On Monday morning, February 25, Denise Ippolito and I will be co-leading a morning In-the-field Workshop at Fort DeSoto, south of St. Petersburg, FL. We should get to photograph a variety of very tame herons, egrets, gulls, terns, and shorebirds. Spoonbills possible. There will be lots of individual and small group instruction. We will cover exposure and histograms, seeing the situation, creating sharp images, and lots more. Each registrant will have a personalized gear and set-up check. The more questions you ask, the more you will learn.
A great working lunch at the Sea Porch Café on St. Petersburg Beach is included. All are invited to bring a laptop along for image sharing at lunch. After the workshop, all are invited to send us three 1024 wide or 800 tall JPEGs for critiquing. Call 1-863-692-0906 to register or send us a Paypal. Either way, be sure to note that the payment is for the Fort DeSoto In-the-Field Workshop.
Typos
On all blog posts, feel free to e-mail or leave a comment regarding any typos, wrong words, misspellings, omissions, or grammatical errors. Just be right.

Support the BAA Blog. Support the BAA Bulletins: Shop B&H here!
We want and need to keep providing you with the latest free information, photography and Photoshop lessons, and all manner of related information. Show your appreciation by making your purchases immediately after clicking on any of our B&H or Amazon Affiliate links in this blog post. Remember, B&H ain't just photography!
If you are considering an item for purchase or comparison shopping be sure to place an item in your cart to see the too-low-to show the actual price. In many cases the prices are so low that B&H is forbidden from publicizing them!