Dressed in Red. To Kill?
I ran into fellow Canon Explorer of Light Rick Sammon at the EdKranePool on my last morning at Bosque: Sunday, December 2. We posed for a fun image that was kindly created by Juan Pons who often works closely with Rick. Denise and I and Rick and Juan had fun connecting that night during happy hour at the Socorro Springs Brewing Company. I did not have any margaritas but I did steal a few chips and some salsa from Rick and Juan.
Rick wrote, "Here's a shot (taken by Juan Pons) of fellow Canon Explorer of Light Arthur Morris and me on location at Bosque Del Apache, New Mexico. It looks like we are having fun, but we were actually having "The Battle of My lens is Bigger Than Your Lens." About the red jackets: they are our sunrise and sunset camouflage jackets; we like to blend in with the nice light!"
You can check out Rick's work here. Be sure to visit his Apps page. Thanks to Juan Pons for the image. You can learn more about Juan here or check out his educational blog.
Quiz Questions:
#1: Who has more hair, Rick or artie?
#2: Who's older by how much? Guess both ages please.
#3: Whose lens was bigger? Identify each lens.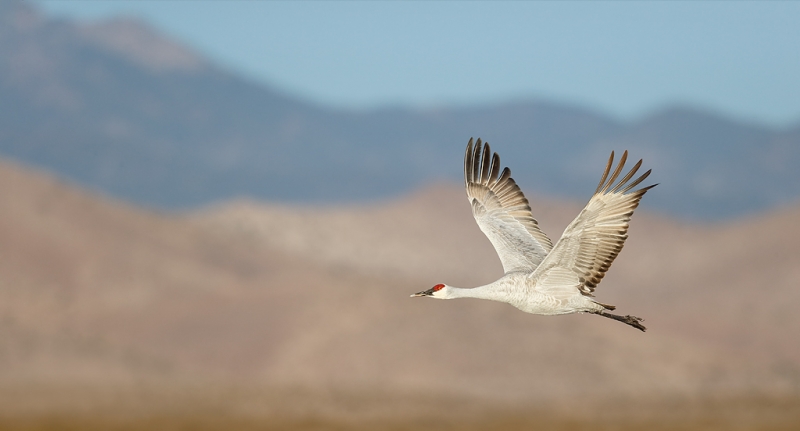 This image was created with the tripod-mounted Canon EF 800mm f/5.6L IS USM Autofocus lens and the Canon EOS-1D X digital SLR . ISO 800. Evaluative metering +1 stop off the sky above the mountains in early morning light: 1/2500 sec. at f/7.1 in Manual mode. Well right of Central sensor/AI Servo Surround/Rear Focus AF active at the moment of exposure. Click here if you missed the Rear Focus Tutorial. Click on the image to see a larger version.
Once it gets to be 7:45 am I switch the exposure to only +2/3 stop off the sky as the meter gets smarter as the sun gets brighter on clear days. But the meter is never as smart as a competent photographer who understands exposure. See the section on Exposure Theory in the original The Art of Bird Photography and Exposure Simplified in ABP II. Save $10 by purchasing the two book bundle. Learn more about each book and about Digital Basics in "98.6 Per Cent" here.
Click on the image to see an impressive larger version.
Your browser does not support iFrame.
800/1D X and a Great New Photoshop Technique
As I have said before, the Canon 800 f/5.6L IS with the Canon EOS-1D X is deadly on cranes in flight. Stay tuned for a post with tons of such images, all razor sharp. For the image above, I cropped to a pano. On both the IPT and the CDLC workshops I advised all to acquire focus while the crane was set against the uglier brushy, splotchier hillside background and to begin making images when the bird was just below or just above the Chupadera Mountains. Surround AF Expand AF Area Selection mode makes that easier to do than with any previous Canon body.
John Haedo, on his first IPT, taught the group a great trick for filling in expanded canvas after leveling an image. After I receive his permission to share it–it is killer good, I will do so here and add it to the next free update of Digital Basics.
1D X AF Guide
Not getting the sharp flight shots that you expected? In the EOS-1D X Guide I share everything that I know about the great new 1D X AF system and share my custom Case for flight photography. Learn more or purchase (only $25) here. If you own a 5D Mark III you will surely want to learn how to use it like a pro by studying our 5D Mark III User's Guide.
Coming Soon
Stay tuned for a 5D Mark III blog post on the in-camera multiple exposure and HDR features.
5D III/24-105 Combo
As you have been seeing here lately the 5D Mark III/24-105 combo is a deadly one in many situations ranging from bird-scapes to overhead flock shots to quasi-macro to B-roll stuff. (B-roll stuff is folks birding, locations, restaurant shots; in short, any type of miscellaneous general interest material.)
NYC Seminar & Door Prize Info
Do consider joining Denise Ippolito and me in Staten Island in December for a great weekend filled with learning, fun, and great door prizes.
It's getting late. Call 863-692-0906 soon to register.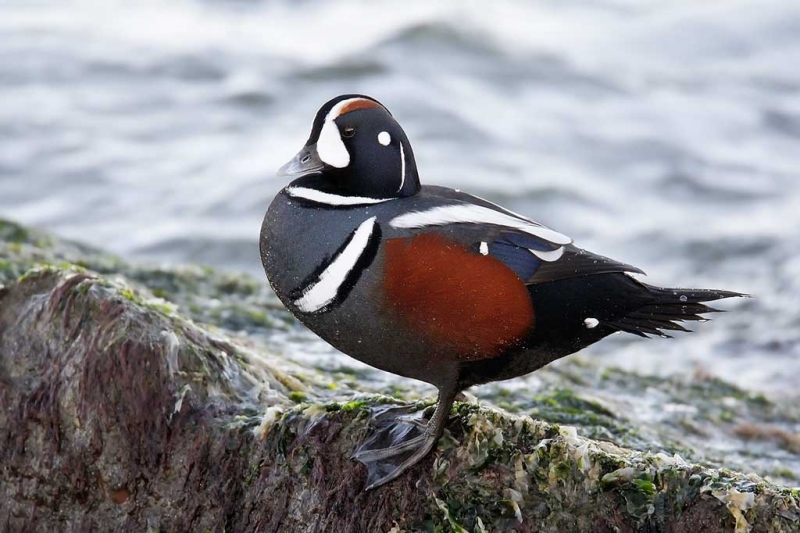 Harlequin Duck, drake, Barnegat Jetty, NJ. Canon 800mm f/5.6L IS with the 1.4X II TC and the EOS-1D Mark IV. ISO 800: 1/250 sec. at f/8. Image copyright 2012 Arthur Morris/BIRDS AS ART.
This is one of the target species on the Barnegat Jetty IPT. Just one sign-up so far so consider joining denise and me for practically private instruction.
BIRDS AS ART/A Creative Adventure Barnegat Jetty IPT, Barnegat Light, NJ: 2 1/2 DAYS. DEC 20 (1:30pm), 21, and 22, 2012: $999. Limit 6/Openings 4. Includes 5 photo-sessions, both lunches, introductory slide program (DEC 20), Photoshop session (DEC 21), and image sharing at lunch DEC 22.
Join Arthur Morris and Denise Ippolito for a 2 1/2 Day Instructional Photo-Tour at the infamous Barnegat Jetty in Barnegat Light, New Jersey. Artie and Denise will teach you how to get close to the ducks and shorebirds that frequent this famed winter birding and photography hotspot, how to get the right exposure every time, and how to see, understand, and tackle a variety of photographic situations. Each will conduct a killer Photoshop session. We should have some excellent chances with Harlequin Duck and Purple Sandpiper, the two headliner species. With any luck we should get to photograph most of these species: Long-tailed Duck (formerly Oldsquaw), Common Loon, Red-throated Loon, Red-breasted Merganser, Surf Scoter, Black Scoter, Common Eider, Brant, Dunlin, Ruddy Turnstone, Black-bellied Plover, and Sanderling . Great Black-backed, Herring, and Ring-billed Gulls are also likely. Sunning Harbor Seals are possible. With the right winds we may have some good flight photography also.
Having at least a 500mm f/4 lens with a 1.4X teleconverter is recommended. Participants should be in good physical condition with a good sense of balance. Payment in full is due now.
Shopper's Guide
Thanks a stack to all who have used our B&H affiliate links to purchase their gear as a thank you for all the free information that we bring you on the Blog and in the Bulletins. Before you purchase anything be sure to check out the advice in our Shopper's Guide.
Shop B&H
Support the BAA Blog. Support the BAA Bulletins. We want and need to keep providing you with the latest free information, photography and Photoshop lessons, and all manner of related information. Show your appreciation by making your purchases immediately after clicking on any of the links above. Remember, B&H ain't just photography!
And from the BAA On-line Store:
LensCoats. I have a LensCoat on each of my big lenses to protect them from nicks and thus increase their re-sales value. All my big lens LensCoat stuff is in Hardwood Snow pattern.
LegCoat Tripod Leg Covers. I have four tripods active and each has a Hardwood Snow LegCoat on it to help prevent further damage to my tender shoulders 🙂 And you will love them in mega-cold weather….
Gizo GT3532 LS CF Tripod. This one replaces the GT3530LS Tripod and will last you a lifetime. Learn more about this great tripod here.
Mongoose M3.6 Tripod Head. Right now this is the best tripod head around for use with lenses that weigh less than 9 pounds. For heavier lenses, check out the Wimberley V2 head.
Double Bubble Level. You will find one in my camera's hot shoe whenever I am not using flash.
The Lens Align Mark II. I use the Lens Align Mark II pretty much religiously to micro-adjust all of my gear an average of once a month and always before a major trip. Enjoy our free comprehensive tutorial here.
BreezeBrowser. I do not see how any digital photographer can exist without this program.
Delkin Flash Cards. I use and depend on Delkin compact Flash Cards and card readers most every day. Learn more about their great 700X and 1000X cards here or about my favorite Delkin card here.