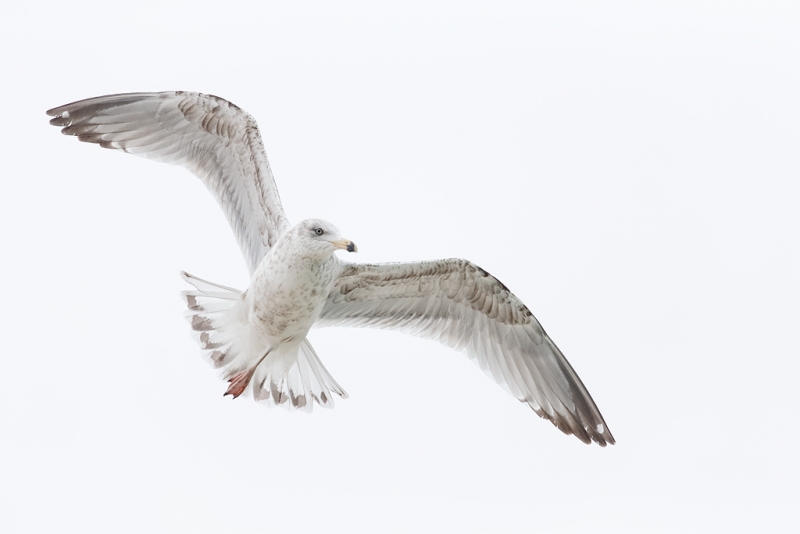 This sub-adult Ring-billed Gull was photographed in flight at Jamesport, NY with the hand held Canon EF 300mm f/2.8L IS II USM lens with the Canon 1.4x EF Extender III (Teleconverter) and the Canon EOS-1D X Digital SLR camera body. ISO 800. Evaluative metering + 2 1/3 stops off the light grey sky was 1/2500 sec. at f/4 in Manual mode. This worked out to about +1 1/3 stops as framed. Why? Because the gull is well darker overall than the sky. Read and study the info below to solidify your understanding.
Central sensor/AI Servo Surround/Rear Focus AF active at the moment of exposure. Click here if you missed the Rear Focus Tutorial. Click on the image to see a larger version. If you own a 1D X be sure to check out the info on our EOS-1D X Autofocus Guide below.
Note that after I adjusted the sliders during RAW conversion in DPP the RGB values for the brightest WHITEs (the uppermost tail feathers) were R: 230, G: 232, and B: 235. To learn how and why I now use DPP for all of my Canon images click here. Note: this JPEG represents the full frame original capture.
Eye Doctor work as in the MP4 videos of the same name here.
Your browser does not support iFrame.
Exposure Confusion and Misconceptions Clarified
While reading most of the comments at Monday's blog post, "Learning to Think Like a Pro In The Field," it is very clear that many folks are far more confused about exposure and about working in Manual mode than they should be. Kudos to Charles Scheffold who gave an answer that was both simple and correct: "The background behind the gull (water) was darker than the sky – that's the reason for the exposure difference as framed." Elinor Osborn was the only other photographer who gave a reasonable (though wordy) answer to my question, which boiled down to this: "Why did that 2 1/3 stops off the light grey sky work out to 1 2/3 stops as framed?"
It is no coincidence that both Charles and Elinor have attended multiple BIRDS AS ART IPTs (Instructional Photo-Tours)….
I will begin here by suggesting that everyone who is not 100% confident about working in Manual mode click here for the free excerpt adapted from "The Art of Bird Photography II (ABP II: 916 pages on CD only). Read it. Bookmark it. And return often to study it until you understand the principles and are comfortable working in Manual mode.
I will continue by addressing many of the misconceptions gleaned from the comments on Monday's post.
The Starting Point
In many situations, I use the sky as a starting point for my exposure calculations. Why? I always try to meter off something large and of consistent tonality as a starting point. The sky–I usually meter about 30 degrees up from the horizon–often works quite well. When the sky is not of uniform tonality I will look for a large cloud and work off that. At times I will meter off the sand and at times I will meter off the water. Anything that is large and of consistent tonality will work.
Where to Next?
Once you have chosen a starting point, how do you know how much light to add (or in rare instances, to subtract)? If you are experienced and have studied exposure theory on pages 58-63 (and especially the diagram on page 62) in the original "The Art of Bird Photography" and fully understand the material covered in the Exposure Simplified section of "The Art of Bird Photography II (ABP II: 916 pages on CD only), you will generally have a good idea as to whether you need to add 3 full stops of light or to subtract 1 stop of light or be somewhere in between.
Here's the rub: even if you have not mastered the materials and the principles referred to above you can still get it right in the field as long as the light is consistent for a few minutes and the subject remains available. Let's say you meter a light grey sky 30 degrees above the horizon and null the meter so that your aperture and exposure settings yield an exposure that matches the exposure suggested by your camera's evaluative or matrix metering pattern. The indicator that moves up and down on the analog scale in your viewfinder should fall on the 0 mark. Next, point your lens at the subject and make an image. Take a look at the histogram. If there is not any data in the rightmost histogram box or two, you can try adding one full stop of light to the exposure that you have set. In bird photography this is usually done by choosing a slower shutter speed but it can also be done by choosing a wider aperture or a higher ISO. Now make another image. You will need to keep adding light until you have data at least halfway into the rightmost histogram box. This will give you a workable RAW file with the WHITEs showing RGB values in the 225-235 range. Just what you want.
If you meter off a large area of consistent tonality and make an image with those settings that includes the subject and you find that there are large areas that show flashing highlights, it indicates that you have severely over-exposed the image. The data will be pegged to the wall on the right side of the histogram. In this case, you will need to subtract light by choosing a faster shutter speed, a smaller aperture, or a lower ISO. Keep adjusting your exposure until you have data that protrudes only halfway into the rightmost histogram box.
In both cases, you will be learning as you go.
Understanding "As framed"
In both of the situations above the indicator on the analog scale that you see in the viewfinder will almost always fall on a different value when you are metering off your large, consistently toned area and compensating than it will when you include the subject in the frame. In the original post I wrote that I added 2 1/3 stops of light to the meter reading off the light grey sky and that when I framed the gull image that the indicator showed just 1 2/3 stops of over-exposure. The 2 1/3 stops off the sky was 2/3 of a stop brighter than the gull image "as framed."
A Further Explanation
If you meter a large area of consistent tonality and set that exposure manually (with or without any compensation) do understand that as you point your lens anywhere else that the indicator on the analog scale will move up and down to indicate the current level or over- or under-exposure. Your goal is to learn to calculate and set the correct exposure for the subject manually so that you do not have to worry about how different backgrounds or even about how a different composition or a pose will affect the metering (as it would if you were in Av or Tv mode).
Why 2 1/3 stops brighter than the sky?
Why did I choose to add 2 1/3 stops to the meter reading off the light grey sky? Because experience taught me that doing so would yield an image of the gull with the WHITE tones in the RAW file coming into Photoshop with RGB values between 225 and 235. On some cloudy days adding only 2 stops to the meter reading off the sky might be perfect. On other days, you might need to go as high as +2 2/3 stops or even more when working in dense fog. You must learn to work in Manual mode with all black and white birds otherwise the meter will be unduly influenced by large changing areas of black and white and your exposures will be all over the place. And most of those places will be places where do you not want to be….
Confused?
If you are confused by anything above, please feel free to leave a comment. If you are confused by everything above and want to learn how to get the right exposure quickly and consistently, do consider purchasing the two-book bundle, ABP and ABPII by clicking here. You can learn more about ABP, ABPII, and Digital Basics by clicking here. Whatever you do, you will actually need to study the materials and then practice in order to reduce the learning curve. Putting the books under your pillow just will not work.
The EOS-1D X Autofocus Guide
The EOS-1D X Autofocus Guide, here-in-after the 1D X AF Guide, is a 60-page eBook with 19 screen captures. It includes everything that I know about the 1D X AF system. Instructions on how to use all AF-related buttons, dials, and wheels and my settings for all AF-related Menu Items. But for iTR AF, the 1D X has the same great autofocus system that was introduced with the 5D Mark III. Only better and on steroids.
Of special interest to bird photographers will be my comments and strategies involving Cases 1-6, the custom-Case that I created and use for most of my bird photography (with detailed instructions for setting it up of course), my strategy for Select AF area selection mode (on AF4, the fourth purple menu), and pretty much anything that has to do with 1D X autofocus….
This eBook is written in my customary easy-to-read, easy-to-understand, easy-to-follow style. Few realize the time and effort that goes into creating a guide of only 7,000 words. Do note, however, that writing how-to requires a huge amount of study, writing, re-writing, and fact checking in order to come up with something that is clear and concise. As is usual, I needed lots of help on this guide and as usual, I got it from my friend Rudy Winston, Canon Advisor, Technical Information. Rudy's knowledge of the various Canon digital camera bodies is encyclopedic and is exceeded only by his helpfulness and generosity.
To order your copy now, click here, call Jim at 863-692-0906, or send a check for $25 to us at BIRDS AS ART, PO Box 7245, Indian Lake Estates, FL, 33855. If the latter, be sure to let us know what you are paying for and include your typed or clearly written e-mail address.
Southwest Florida IPT $600 Late Registration Discount!
If you would like to join us on the Southwest Florida IPT (see below) please call Jim on Monday at 863-692-0906 to register or shoot me an e-mail to save one of the two spots for you.
SW FLA IPT. FEB 16-21, 2013. Introductory slide program: 7pm on 2/15. 6-FULL DAYS: $2999. Co-leaders: Denise Ippolito and Robert Amoruso. Limit: 10/Openings 2 due to two late cancellations
Payment in full is due now
This is my bread and butter IPT; learn the basics and the advanced fine points from the best; escape winter's icy grip and enjoy tons of tame birds! Subjects will include nesting Great Blue Heron and Great Egret, Mottled Duck, Brown and White Pelican at point-blank range, Snowy & Reddish Egret, Tricolored Heron, Yellow-crowned Night Heron, Osprey, wintering shorebirds and plovers, gulls and terns, & Burrowing Owl. All ridiculously tame. Roseate Spoonbill, Black-bellied Whistling Duck, American Oystercatcher, and who knows what are possible.
Click here to learn more about this IPT.
Fort DeSoto Morning In-the-Field Workshop
Fort DeSoto In-the-field Workshop: FEB 25. Pre-dawn -10:30am. Limit 16/openings: 5. Includes a great working lunch: $275.
On Monday morning, February 25, Denise Ippolito and I will be co-leading a morning In-the-field Workshop at Fort DeSoto, south of St. Petersburg, FL. We should get to photograph a variety of very tame herons, egrets, gulls, terns, and shorebirds. Spoonbills possible. There will be lots of individual and small group instruction. We will cover exposure and histograms, seeing the situation, creating sharp images, and lots more. Each registrant will have a personalized gear and set-up check. The more questions you ask, the more you will learn.
A great working lunch at the Sea Porch Café on St. Petersburg Beach is included. All are invited to bring a laptop along for image sharing at lunch. After the workshop, all are invited to send us three 1024 wide or 800 tall JPEGs for critiquing. Call 1-863-692-0906 to register or send us a Paypal. Either way, be sure to note that the payment is for the Fort DeSoto In-the-Field Workshop.
Weekend Creative Nature Photography Seminar, Tampa, FL: February 23 & 24, 2013: $149 Limit: 50/Openings: 2
Best to register soon as there are just 2 seats left. The In-the-field Workshop above follows the Weekend Creative Nature Photography Seminar. You are invited to join Denise Ippolito and me on the weekend of February 23-24 on the outskirts of Tampa, FL for a great weekend of fun and learning. Learn to improve your photography skills, your skill at designing images in the field, your creative vision, and your image optimization skills. Sunday critiquing session. Click here for additional details and the complete schedule.
Typos
On all blog posts, feel free to e-mail or leave a comment regarding any typos, wrong words, misspellings, omissions, or grammatical errors. Just be right. 🙂
Support the BAA Blog. Support the BAA Bulletins Shop B&H
We want and need to keep providing you with the latest free information, photography and Photoshop lessons, and all manner of related information. Show your appreciation by making your purchases immediately after clicking on any of our B&H or Amazon Affiliate links in this blog post. Remember, B&H ain't just photography!
If you are considering an item for purchase or comparison shopping be sure to place an item in your cart to see the too-low-to show the actual price. In many cases the prices are so low that B&H is forbidden from publicizing them!
Shop Amazon
Consider doing all of your Amazon.com shopping using the search link below. You'll be getting the same low prices and great service that you are accustomed to and at the same time, supporting my efforts in the Bulletins and on the Blog to bring you great images, timely product news and info, and tons of free educational articles on an almost daily (and sometimes almost back-breaking) basis 🙂 Just type your search in the little white box and hit Go.

And from the BAA On-line Store:
LensCoats. I have a LensCoat on each of my big lenses to protect them from nicks and thus increase their re-sales value. All my big lens LensCoat stuff is in Hardwood Snow pattern.
LegCoat Tripod Leg Covers. I have four tripods active and each has a Hardwood Snow LegCoat on it to help prevent further damage to my tender shoulders 🙂 And you will love them in mega-cold weather….
Gizo GT3532 LS CF Tripod. This one replaces the GT3530LS Tripod and will last you a lifetime. Learn more about this great tripod here.
Mongoose M3.6 Tripod Head. Right now this is the best tripod head around for use with lenses that weigh less than 9 pounds. For heavier lenses, check out the Wimberley V2 head.
Double Bubble Level. You will find one in my camera's hot shoe whenever I am not using flash.
The Lens Align Mark II. I use the Lens Align Mark II pretty much religiously to micro-adjust all of my gear an average of once a month and always before a major trip. Enjoy our free comprehensive tutorial here.
BreezeBrowser. I do not see how any digital photographer can exist without this program.
Delkin Flash Cards. I use and depend on Delkin compact Flash Cards and card readers most every day. Learn more about their great 700X and 1000X cards here or about my favorite Delkin card here.