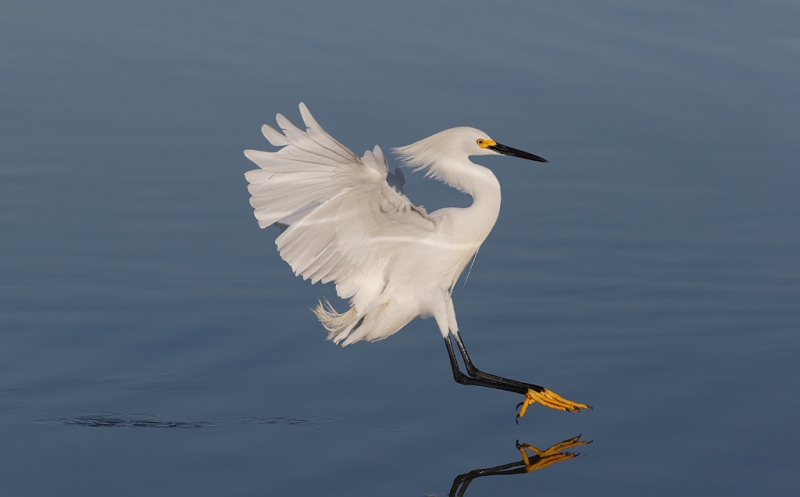 This is the optimized file created in Photoshop after being converted in DPP. This Snowy Egret image was created at Little Estero Lagoon in Fort Myers Beach, FL on the recently concluded SW FLA IPT with the hand held Canon EF 300mm f/2.8L IS II USM lens and the Canon EOS-1D X Digital SLR camera. ISO 400. Evaluative metering at zero as framed: 1/2000 sec. at f/8 confirmed via histogram check.
61-point/AI Servo/Rear Focus AF active at the moment of exposure. Click here if you missed the Rear Focus Tutorial. Click on the image to see a larger version.
Your browser does not support iFrame.
Canon 300 f/2.8L IS II + 1D X + One Snowy Egret Stretching to Land = So Much to Learn
On the morning of February 20ieth, the group enjoyed a wonderful morning at Little Estero after some fairly heavy fog lifted quickly.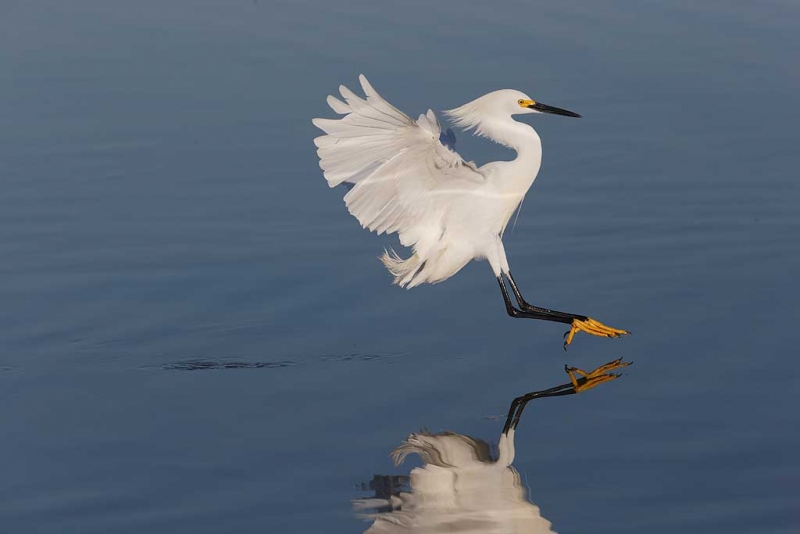 This is the original capture.
The Original Image
As you can see, the bird is a bit too far forward in the frame. And it is fairly easy to determine by looking at the splash behind the bird that the image needs to be leveled.
Before and After Animated GIF
Aside from leveling the image, dust spotting, some minor bill and feather clean-up, a healthy crop, some Eye Doctor work, sharpening the face with a Contrast Mask (15/65/0), the major improvement here was the restoring of detail in the white feathers. This was done with a 12% Linear Burn and a layer of NIK Color Efex Pro Detail Extractor at about 50% and then painted in with a Hide-All Mask.
Believe it or not all of the above is detailed in our Digital Basics file. Digital Basics includes my complete digital workflow, dozens of great Photoshop tips, Layer Masking for Dummies, Eye Doctor work, NIK Color Efex Pro basics, all of my Keyboard Shortcuts, and tons more. This PDF, sent via e-mail, will be the best $25 you'll ever spent on your photography. Your purchase includes free updates. Learn advanced Layer Masking Techniques in APTATS II.
NIK 15% Discount
A 30% layer of Detail Extractor and Tonal Contrast fine-tuned via a Regular Layer Mask really brought this image to life. As regular readers know, Color Efex Pro has drastically changed my digital workflow and little by little I have begun using Viveza to solve sticky image optimization problems and Silver Efex Pro fo fast, dramatic B&W conversions. You can save 15% on all NIK products (including Color Efex Pro, Silver Efex Pro, and Viveza) by clicking here and entering BAA in the Promo Code box at check-out. Then hit Apply to see your savings. You can download a trial copy that will work for 15 days and allow you to create full sized images.
MP4 Photoshop Tutorial Videos
See and hear me at work in Photoshop in these great MP4 instructional videos. Cheap! You can see them all and learn more here and learn about our latest offering here.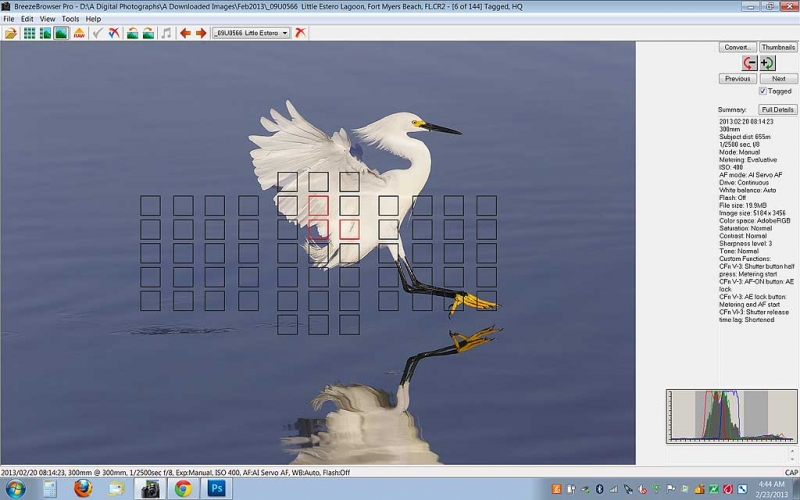 This is the BreezeBrowser Main View screen capture for the RAW image. Note that the latest version of BreezeBrowser supports both the Canon EOS-5D Mark III and the Canon EOS-1DX.
You can learn a ton by studying the EXIF data here. I have been using and depending on BreezeBrowser for more than a decade now; it enables me to pick my keepers from a 1,000 image morning in record time, usually about 15 minutes. It is designed to run on PCs only. Learn about running it and other great Windows programs like Fractalius in "BreezeBroswer on a Mac" here.
61-Point AF
I have been experimenting lately with 61-Point AF with both my 1D X and my 5D III and have been getting some pretty encouraging results. Here, as you can see by the 3 active AF points illuminated in red, it performed nicely.
My Crop
Why did I choose to crop out the reflection of the body? Would you have cropped this one differently?
Seriously Huge B&H Savings on Nikon and Canon Gear
Nikon
For the first time in many years NIKON is going to be deeply discounting many legacy pro lenses individually for the next 2 weeks only with discounts up to $350. There are also many amazing deals on NIKON Buy together and Save packages as well. Click here to save.
Nikon DSLRS Bundles with Lenses & Flash: Save up to $750. Click here to save. Make sure to add each item to your shopping cart to see the absolute lowest price.
Canon Lenses & Speedlites: Save Up to $300
Click here to save. Make sure to add each item to your shopping cart to see the absolute lowest price.
Canon Buy Together & Save: Save Up to $400
Click here to save.
EOS-1D X AF Guide
You can learn exactly how I set up and use this camera's great new AF system in our EOS-1D X AF Guide. And you can learn about our camera User's Guides here.
Southwest Florida Site Guide
Several folks have written recently asking why this great guide has not been updated since 2007. The answer is that I have not discovered any new hotspots and that the good places remain good and the great places remain great. We found the Snowy Plovers on Wednesday in the exact spot described in the Southwest Florida Site Guide. Go figure.
Africa Photo Safari: August 2013
Serengeti Summer Migration Safari: 12 full and two half-days of photography: $12,999/person double occupancy. Limit: 12/Openings: 9.
Leaders: Todd Gustafson, Denise Ippolito, and Arthur Morris. Tanzania Summer Migration Safari. Leave the US on August 3. Day 1 of the safari is August 5. We will visit Tarangire for great dry season photography, Seronera Lodge–aka Leopard City!–twice, Central Serengeti for big cats, Northern Serengeti and our mobile tented camp to search for river crossings, and the spectacular wildlife spectacle that is Ngorongoro Crater. Our last morning of photography is August 18. Fly home from Arusha, Tanzania on the evening of August 18.
A deposit of $4,000 is due now. This trip is a go. Happy Campers only please. Guaranteed maximum no more than 12 photographers plus the three great leaders. 3 persons/van. You get a row of seats for yourself and your gear. In addition to rotating in-the-field instruction with each of the co-leaders, artie, Todd, and denise will be available for image sharing and review and informal Photoshop instruction during breaks and after meals. And–with apologies to Miss Manners–even during meals!
Once we cash your check you will be strongly advised to purchase travel insurance. You may wish to consider using Travel Insurance Services. Do understand that most policies must be purchased within two weeks of our cashing your deposit check. The 2nd payment of $4000 is due MAR 30, 2013. The final payment/balance is due MAY 30, 2013. Sign up with a friend or a spouse and apply a $300 per person discount.
The lodging is all first class. Please e-mail to request a PDF with additional details, the complete itinerary, and a description of the unparalleled photographic opportunities that we will enjoy. Please e-mail or call me on my cell at 1-863-221-2372 with any questions. I hope that you can join us.
You can see a collection of my images from previous safaris here.
Fort DeSoto Morning In-the-Field Workshop/Two Slots Left!
Fort DeSoto In-the-field Workshop: FEB 25. Pre-dawn -10:30am. Strict Limit 16/2 Openings. Includes a great working lunch: $275.
On Monday morning, February 25, Denise Ippolito and I will be co-leading a morning In-the-field Workshop at Fort DeSoto, south of St. Petersburg, FL. We should get to photograph a variety of very tame herons, egrets, gulls, terns, and shorebirds. Spoonbills possible. There will be lots of individual and small group instruction. We will cover exposure and histograms, seeing the situation, creating sharp images, and lots more. Each registrant will have a personalized gear and set-up check. The more questions you ask, the more you will learn.
A great working lunch at the Sea Porch Café on St. Petersburg Beach is included. All are invited to bring a laptop along for image sharing at lunch. After the workshop, all are invited to send us three 1024 wide or 800 tall JPEGs for critiquing. Call 1-863-692-0906 to register or send us a Paypal. Either way, be sure to note that the payment is for the Fort DeSoto In-the-Field Workshop.
Typos
On all blog posts, feel free to e-mail or leave a comment regarding any typos, wrong words, misspellings, omissions, or grammatical errors. Just be right. 🙂
Support the BAA Blog. Support the BAA Bulletins: Shop B&H here!
We want and need to keep providing you with the latest free information, photography and Photoshop lessons, and all manner of related information. Show your appreciation by making your purchases immediately after clicking on any of our B&H or Amazon Affiliate links in this blog post. Remember, B&H ain't just photography!
If you are considering an item for purchase or comparison shopping be sure to place an item in your cart to see the too-low-to show the actual price. In many cases the prices are so low that B&H is forbidden from publicizing them!
Support the BAA Blog. Support the BAA Bulletins: Shop Amazon here!
Consider doing all of your Amazon.com shopping using the search link below. You'll be getting the same low prices and great service that you are accustomed to and at the same time, supporting my efforts in the Bulletins and on the Blog to bring you great images, timely product news and info, and tons of free educational articles on an almost daily (and sometimes almost back-breaking) basis 🙂 Just type your search in the little white box and hit Go.

And from the BAA On-line Store:
LensCoats. I have a LensCoat on each of my big lenses to protect them from nicks and thus increase their re-sales value. All my big lens LensCoat stuff is in Hardwood Snow pattern.
LegCoat Tripod Leg Covers. I have four tripods active and each has a Hardwood Snow LegCoat on it to help prevent further damage to my tender shoulders 🙂 And you will love them in mega-cold weather....
Gizo GT3532 LS CF Tripod. This one replaces the GT3530LS Tripod and will last you a lifetime. Learn more about this great tripod here.
Mongoose M3.6 Tripod Head. Right now this is the best tripod head around for use with lenses that weigh less than 9 pounds. For heavier lenses, check out the Wimberley V2 head.
Double Bubble Level. You will find one in my camera's hot shoe whenever I am not using flash.
The Lens Align Mark II. I use the Lens Align Mark II pretty much religiously to micro-adjust all of my gear an average of once a month and always before a major trip. Enjoy our free comprehensive tutorial here.
BreezeBrowser. I do not see how any digital photographer can exist without this program.
Delkin Flash Cards. I use and depend on Delkin compact Flash Cards and card readers most every day. Learn more about their great 700X and 1000X cards here or about my favorite Delkin card here.