Help Needed
Is there anyone out there who is good at scanning slides or anyone who knows of a lab that does a decent job for a buck or two? I need to have some slides scanned for a program that I am doing in mid-April for the National Science Teacher's Association National Conference on Science Education in San Antonio, TX. If you can help, please contact me via e-mail.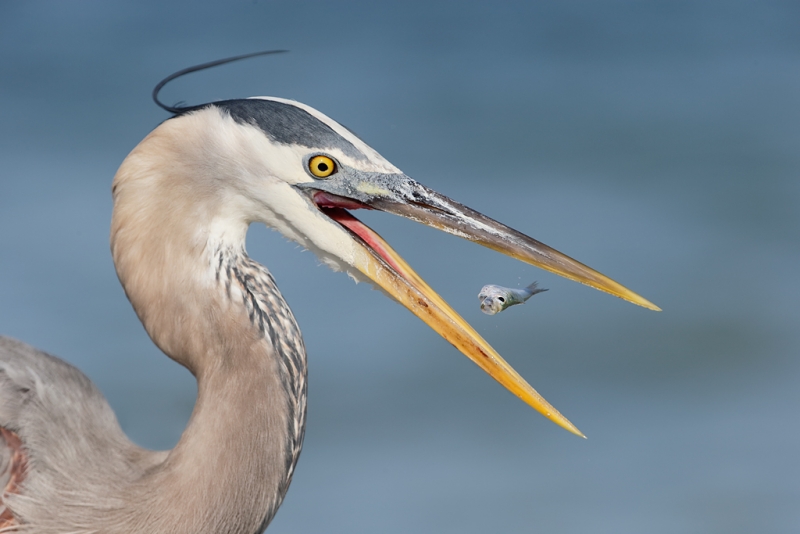 This Great Blue Heron was photographed at ISO 400. Evaluative metering at zero as framed: 1/2000 sec. at f/7.1 in Manual mode.
Your browser does not support iFrame.
Exposure Quiz
In the Exposure Quiz: You Are on the Spot and Have One Second to Get Ready. What Do You Do? blog post on February 25, I wrote, "You just finished photographing the Great Blue Heron above, making sure not to clip the WHITEs on the heron's neck. You look up and see the Boat-tailed Grackle below landing into the wind. You have at most one second to adjust the exposure. You are at 1/2000 sec. at f/7.1 in Manual. mode. What do you do and why?"
The Answer
It was key that I knew what my settings were: 1/2000 sec. at f/7.1 in Manual mode. I though, "I need to go lighter while maintaining enough shutter speed to create a sharp image." As I usually control the shutter speed when making such adjustments, I rolled the index finger dial three clicks counter-clockwise, got my finger back on the shutter button and created two images. The original capture is below.
Folks who suggested adding two stops to the GBH exposure would have toasted the sky. Folks who suggested changing the ISO would not have had the time to do so. Opening the aperture from f/7.1 to f/4 would also have over-exposed the sky. Opening it up to f/5 would have yielded one stop more of light but I find it faster and easier to work with the index finger dial than with the thumb wheel.
Many folks who commented displayed a lack of understanding of working in Manual mode. It's back to square one for them…. They need to click here and study and then follow the link to the Manual Mode tutorial.
This Just In
At 8:45pm on the evening of March first I finished responding to all the comments in the original post. I did need to be terse :).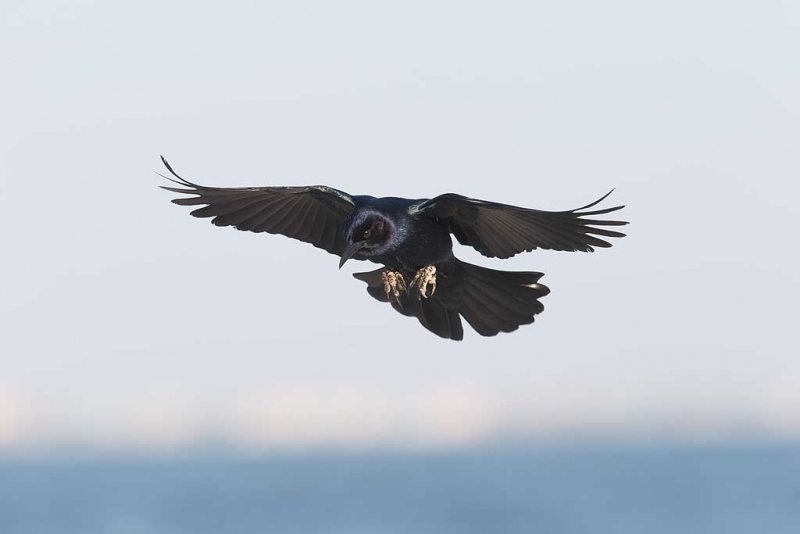 This is the original Boat-tailed Grackle image.
The Original Boat-tailed Grackle Image
First thing that I did was to move the bird down in the frame by dragging a layer of the whole image down and adding a Layer Mask. Then Detail Extractor and Tonal Contrast from NIK's Color Efex Pro each at about 25% brought the bird's face and underwing to life.
NIK 15% Discount
A 30% layer of Detail Extractor and Tonal Contrast fine-tuned via a Regular Layer Mask really brought this image to life. As regular readers know, Color Efex Pro has drastically changed my digital workflow and little by little I have begun using Viveza to solve sticky image optimization problems and Silver Efex Pro fo fast, dramatic B&W conversions. You can save 15% on all NIK products (including Color Efex Pro, Silver Efex Pro, and Viveza) by clicking here and entering BAA in the Promo Code box at check-out. Then hit Apply to see your savings. You can download a trial copy that will work for 15 days and allow you to create full sized images.
Another Exposure Quiz
This Snowy Egret was photographed in the same light as the Great Blue Heron that opened this post. With the same ISO and shutter speed what aperture would you have set? And why?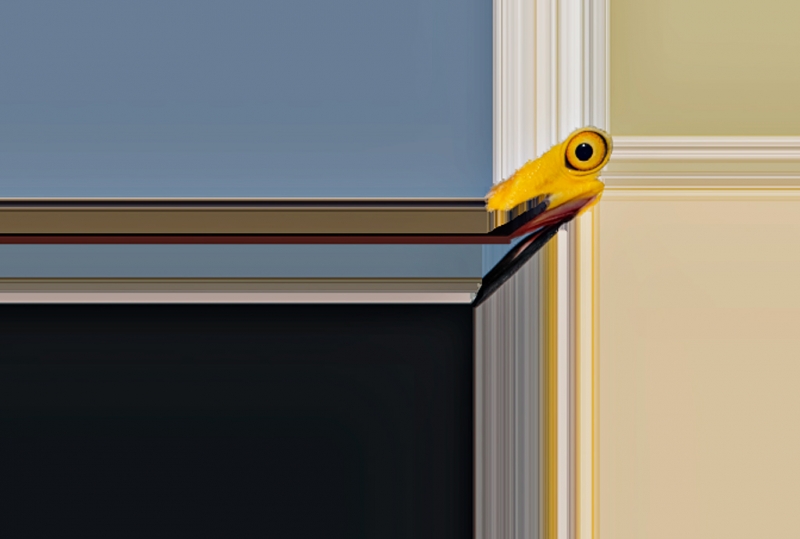 What the heck is this?
Color Efex Pro Funkiness
I did not do much to the Snowy Egret image: just toned down some specular highlights on the bill with a 70% Opacity Clone Stamp Brush, a bit of Selective Color work on the YELLOWs. and my usual NIK 50/50 layer at about 50% on the lores and the eye. I made my selection with the Quick Selection Tool and put it on its own layer. When the image opened in NIK Color Efex Pro this is what I saw. I call it "Panel Framing." I have seen this several times before. Has anyone else run into this phenomenon? Any clues?
Fort DeSoto/Hooptie Deux/Roseate Spoonbill Short Notice IPT
Fort DeSoto/Hooptie Deux/Roseate Spoonbill Short Notice IPT: March 6-10, 2013. 5-DAY: $2399 (Includes 3 mornings on the Hooptie Deux). Limit: 6/Openings: 2.
Join me as part of a small group for five great days of bird photography and learning. We will spend three mornings with the breeding plumage spoonbills on James Shadle's customized pontoon boat. This alone would cost you $1050 so this works out to the cheapest IPT ever: 5 full days for only $1349. We will spend two of our mornings and four of our afternoons at Fort DeSoto photographing all manner of wading birds, gulls, terns, and almost surely some Great Horned Owl chicks. Our last afternoon will be spent at an active Wood Stork rookery with lots of flight photography opportunities.
Click here and scroll down for additional details on this New Concept IPT.
Seriously Huge B&H Savings on Nikon and Canon Gear
Nikon
For the first time in many years NIKON is going to be deeply discounting many legacy pro lenses individually for the next 2 weeks only with discounts up to $350. There are also many amazing deals on NIKON Buy together and Save packages as well. Click here to save.
Nikon DSLRS Bundles with Lenses & Flash: Save up to $750. Click here to save. Make sure to add each item to your shopping cart to see the absolute lowest price.
Canon Lenses & Speedlites: Save Up to $300
Click here to save. Make sure to add each item to your shopping cart to see the absolute lowest price.
Canon Buy Together & Save: Save Up to $400
Click here to save.
EOS-1D X AF Guide
You can learn exactly how I set up and use this camera's great new AF system in our EOS-1D X AF Guide. And you can learn about our other camera User's Guides here.
Southwest Florida Site Guide
Several folks have written recently asking why this great guide has not been updated since 2007. The answer is that I have not discovered any new hotspots and that the good places remain good and the great places remain great. We found the Snowy Plovers on Wednesday in the exact spot described in the Southwest Florida Site Guide. Go figure.
Typos
On all blog posts, feel free to e-mail or leave a comment regarding any typos, wrong words, misspellings, omissions, or grammatical errors. Just be right. 🙂
Support the BAA Blog. Support the BAA Bulletins: Shop B&H here!
We want and need to keep providing you with the latest free information, photography and Photoshop lessons, and all manner of related information. Show your appreciation by making your purchases immediately after clicking on any of our B&H or Amazon Affiliate links in this blog post. Remember, B&H ain't just photography!
If you are considering an item for purchase or comparison shopping be sure to place an item in your cart to see the too-low-to show the actual price. In many cases the prices are so low that B&H is forbidden from publicizing them!
Support the BAA Blog. Support the BAA Bulletins: Shop Amazon here!
Consider doing all of your Amazon.com shopping using the search link below. You'll be getting the same low prices and great service that you are accustomed to and at the same time, supporting my efforts in the Bulletins and on the Blog to bring you great images, timely product news and info, and tons of free educational articles on an almost daily (and sometimes almost back-breaking) basis 🙂 Just type your search in the little white box and hit Go.

And from the BAA On-line Store:
LensCoats. I have a LensCoat on each of my big lenses to protect them from nicks and thus increase their re-sales value. All my big lens LensCoat stuff is in Hardwood Snow pattern.
LegCoat Tripod Leg Covers. I have four tripods active and each has a Hardwood Snow LegCoat on it to help prevent further damage to my tender shoulders 🙂 And you will love them in mega-cold weather....
Gizo GT3532 LS CF Tripod. This one replaces the GT3530LS Tripod and will last you a lifetime. Learn more about this great tripod here.
Mongoose M3.6 Tripod Head. Right now this is the best tripod head around for use with lenses that weigh less than 9 pounds. For heavier lenses, check out the Wimberley V2 head.
Double Bubble Level. You will find one in my camera's hot shoe whenever I am not using flash.
The Lens Align Mark II. I use the Lens Align Mark II pretty much religiously to micro-adjust all of my gear an average of once a month and always before a major trip. Enjoy our free comprehensive tutorial here.
BreezeBrowser. I do not see how any digital photographer can exist without this program.
Delkin Flash Cards. I use and depend on Delkin compact Flash Cards and card readers most every day. Learn more about their great 700X and 1000X cards here or about my favorite Delkin card here.