B&H Event Space Event
Yesterday, on Tuesday, August 21, Denise Ippolito and I presented "Creating Pleasing Blurs," an illustrated slide lecture, at the B&H Superstore in Manhattan as part of their Event Space series. With an enthusiastic full house of 80 it was a huge success. We asked for questions during the program and got them in spades. Denise and I each shared one of our favorite new pleasing blur images to begin the program; each generated so many questions that it took 25 minutes to get to the third slide. The interactions were great and taking advantage of the teachable moment always leads to increased learning. Denise and I were thrilled to have many folks come up to us after the program and offer kind remarks: "The images were beautiful and amazing;" "That was the most inspirational program I have ever attended:" "I was not expecting much when I signed up for this Event but it was fabulous;" "Great program–we enjoyed it tremendously," etc.
Just of the record book: A Guide to Pleasing Blurs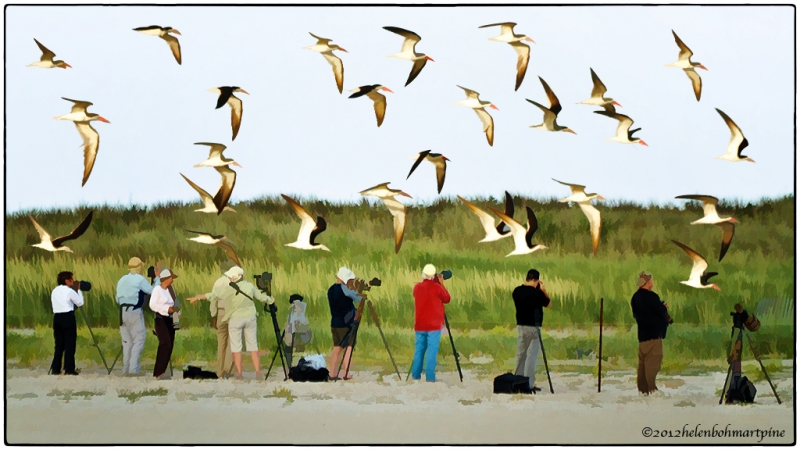 Artie and Denise & Nickerson Beach/JBWR IPT Crew. Image courtesy of and copyright 2012: Helen Bohmart Pine.
From left to right: Kitty Kono, yours truly, denise, Macolm MacKenzie (I think), Dierdre Sheer Gross (pointing), Michael Goodman, Stanley Goldberg, unknown photographer, & Tim Thompson. My favorite part: Helen made me look tall and thin!
Before the program started we were chatting with many friends old and new. An enthusiastic lady photographer by the name of Helen Pine showed the image above to Denise on her i-Pad. Denise liked it so much that she sent Helen over to show it to me. I loved it too. I told Helen that if she sent me a 1024 wide jpeg that I would run it on the blog. Here is the e-mail that she sent me:
Hi Artie, I enjoyed meeting you and Denise at B & H today and seeing your presentation. Many of the images took my breath away! My husband and I are long-time subscribers to your Bulletins and your Blog and new subscribers to Denise's blog as well. We purchased Digital Basics in 2006 and enjoy receiving the updates when you publish them. In addition, we have purchased and followed the recommendations in several of your Site Guides. We also have Denise's "Guide to Creative Filters & Effects." We thank you so much for your generosity in sharing your knowledge and experience. We have learned so much from you.
I am attaching the photo I took of you and the group at Nickerson Beach on August 16. It's a composite of two photos and run through Topaz Simplify 3.
Thanks again, Helen Bohmart Pine
Thanks!
Thanks a stack to Helen for her kind words and for sending the image along. I have never used Topaz Simplify but I love the look. Denise uses it often. You can help two starving artists and support their blogs by making your Topaz purchases after you click on the photo-link below. 🙂
Crazy B&H Canon Rebates
Crazy B&H Canon Rebates
B&H is offering crazy-huge instant rebates of up to $300 on a variety of Canon lenses and Speedlites including many of my absolute favorite intermediate telephoto lenses like the 70-200mm f/2.8L IS, the 70-200mm f/4L IS, and the 100-400mm L IS. Click here for complete details.