What's Up?
I got some nice stuff on Sandhill Cranes on Friday morning. My favorite was mildly backlit, with a shaded foggy-water-with-all-dark tree-reflections background. Then I drove to the North Field, put on my heavy-duty waders, got out the loppers, and opened up a nice viewing window for my sunset photography. The sunset looked promising at first but soon fizzled.
Thanks to all who purchased The Art of Flower Photography by Denise Ippolito and yours truly based on what they read in yesterday's Canon EOS R5 Multiple Exposure blog post here.
I got my Canon EOS R5, RF 100-500, and RF 1.4X teleconverter via 2nd-day air Fed-Ex from Steve Elkins at Bedfords yesterday afternoon. I've been back to swimming every day. I've increased my workout slowly over the past few weeks from 44 to 50 lengths (88 lengths to the mile). I've also ordered the standard adapter so that I can use my RF with my Canon EF 180mm f/3.5 macro lens. And one extra battery.
The forecast for the next few days is for variably cloudy skies with brisk northwest winds. Though such conditions are NTG for morning bird photography, I will be heading down to the lake twice every day.
I have a Zoom meeting with Patrick Sparkman set up for today — Saturday 16 January 2020 — to iron out one last detail for the RawDigger e-Guide. I am confident that we will be publishing the final version no later than this-coming Wednesday. At least that is the plan 🙂
This blog past makes twenty-seven days in a row with a new blog post. This one took about 1 1/2 hours to prepare (including the time spent on the post-processing). Please remember …
Please Remember
With income from IPTs approaching zero, please, if you enjoy and learn from the blog, remember to use one of my two affiliate programs when purchasing new gear. Doing so just might make it possible for me to avoid having to try to get a job as a Walmart greeter and will not cost you a single penny more. And if you use Bedfords and remember to enter the BIRDSASART code at checkout, you will save 3% on every order and enjoy free second-day air shipping. In these crazy times — I am out at least forty to sixty thousand dollars so far due to COVID 19 (with lots more to come) — remembering to use my B&H link or to shop at Bedfords will help me out a ton and be greatly appreciated. Overseas folks who cannot order from the US because of import fees, duties, and taxes can always help out by clicking here if they see fit.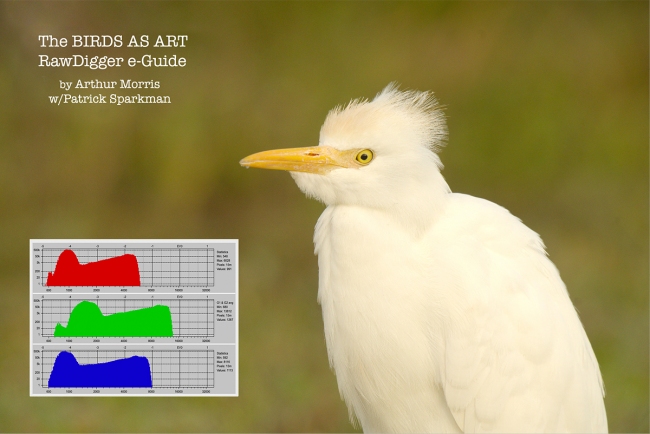 The RawDigger e-Guide by Arthur Morris with Patrick Sparkman
RawDigger e-Guide and Video Advance Copy Available
Save $10 Now
The RawDigger e-Guide and Video is almost finished. It will sell for $51.00. If you are anxious to get started with RawDigger, learn to mega-Expose to the Right, and wind up with the highest quality image files, you can save $10.00 and have a chance to review a pre-publication copy of the guide by sending a PayPal for $41.00 to birdsasart@verizon.net with the words RawDigger e-Guide and Video Pre-publication Copy cut and pasted into the Subject line. The recent delay is the result of my recent conversations with Iliah Borg, the brains behind RawDigger. It is very likely that the Shock-your-World section will shock you.
In the new guide, we teach you why the GREEN channel is almost always the first to over-expose. We teach you how to interpret the Max G values. And most recently, we teach you a simple way to evaluate your exposures using an adapted RawDigger histogram. And tons more, of course. I am planning on having the RawDigger guide ready for sale by next Monday. Folks who saved $10.00 by pre-ordering will of course receive a link to the final PDF.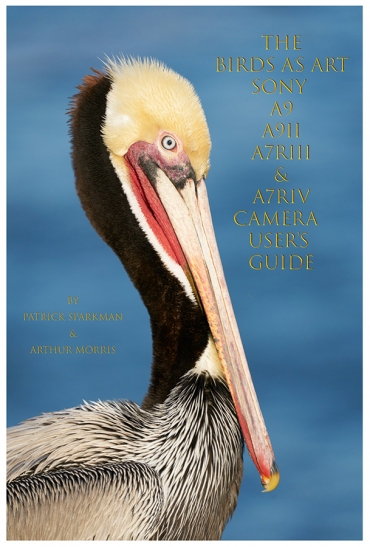 132 sold to rave reviews.
The SONY e-Guide by Patrick Sparkman and Arthur Morris
The Sony Camera User's e-Guide (and Videos)
Click here to purchase the guide with one Camera Set-up Video. Be sure to e-mail us by clicking here to specify your camera body so that we can send you a link for the correct video.
Click here to purchase the guide with two Camera Set-up Videos. Be sure to e-mail us by clicking here to specify your two camera bodies so that we can send you links for the correct videos.
Click here to learn more about the SONY e-Guide.
Folks who have used my B&H affiliate links or purchased their SONY gear are invited to e-mail for discount information.
Great Topaz News!
Folks who use the BAA Topaz link to purchase Sharpen AI, DeNoise AI, or the Utility Bundle (or any other Topaz plugins) will receive a 15% discount by entering the ARTHUR15 code at checkout. To get the discount you must use my link and you must enter the discount code. Be sure to start with this link.
Topaz Stuff
As I said just a while back and have said often many times before, I should have listened sooner. If you, like me, are new to the Topaz party, please use this link to purchase. Right now I can wholeheartedly recommend both Topaz Sharpen AI and Topaz DeNoise AI. Though I have not yet worked with JPEGtoRAW AI or Gigapixel AI, I have installed both of these plug-ins and look forward to trying them on some I-Phone 11 images fairly soon. If you are thinking like me, consider the Utility Bundle that includes all four plug-ins mentioned above at a money-saving price.
Again, those who purchase Sharpen AI or DeNoise AI using my link, can e-mail to request a short Getting Started with Topaz e-Guide. I had a bit of trouble getting the two plug-ins installed and having them appear in the Photoshop Filter Menu. In addition, I will explain how to best learn about the two plug-ins by applying them on a Layer (in Photoshop).
New and Better Bedfords Discount Policy!
You can now save 3% on all of your Bedfords photo gear purchases by entering the BIRDSASART coupon code at checkout. Your discount will be applied to your pre-tax total. In addition, by using the code you will get 2nd day air shipping via Fed Ex.
Grab a Nikon AF-S Teleconverter TC-14E III and save $14.99. Purchase a Canon EOS R5 and your discount will be $116.97. Purchase a Sony FE 600mm f/4 GM OSS lens and save a remarkable $389.94! Your Bedford's purchase no longer needs to be greater than $1,000.00 for you to receive a discount. The more you spend, the more you save.

Money Saving Reminder
Many have learned that if you need a hot photo item that is out of stock at B&H and would enjoy free overnight shipping, your best bet is to click here, place an order with Bedfords, and enter the coupon code BIRDSASART at checkout. If an item is out of stock, contact Steve Elkins via e-mail or on his cell phone at (479) 381-2592 (Central time). Be sure to mention the BIRDSASART coupon code and use it for your online order to save 3% and enjoy free 2nd-day air shipping. Steve has been great at getting folks the hot items that are out of stock at B&H and everywhere else. The wait lists at the big stores can be a year or longer for the hard to get items. Steve will surely get you your gear long before that. For the past year, he has been helping BAA Blog folks get their hands on items like the SONY a9 ii, the SONY 200-600 G OSS lens, the Canon EOS R5, the Canon RF 100-500mm lens, and the Nikon 500mm PF. Steve is personable, helpful, and eager to please.
Gear Questions and Advice
Too many folks attending BAA IPTs and dozens of photographers whom I see in the field and on BPN, are–out of ignorance–using the wrong gear especially when it comes to tripods and more especially, tripod heads… Please know that I am always glad to answer your gear questions via e-mail. Those questions might deal with systems, camera bodies, accessories, and/or lens choices and decisions.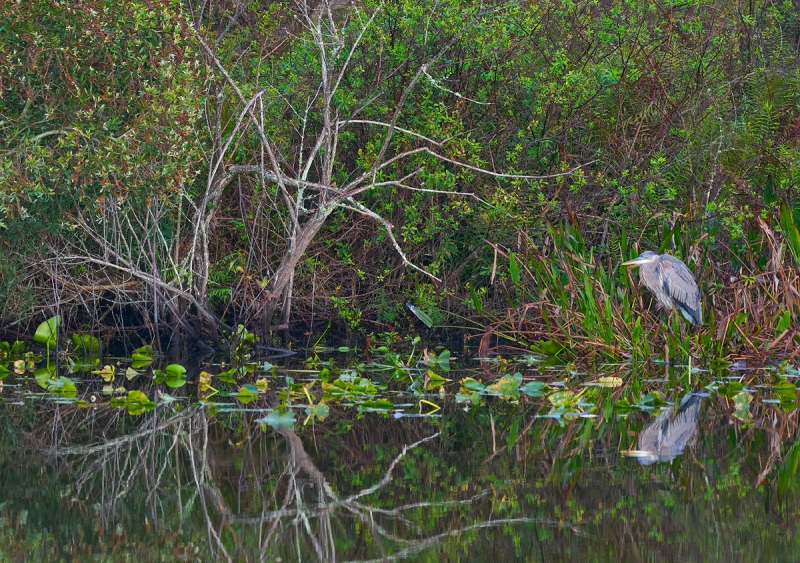 This image was created on the morning of 11 January 2021 a the north end of the North Field at Indian Lake Estates. Working from my SUV, I used the handheld Sony FE 200-600mm f/5.6-6.3 G OSS lens (at 266mm) and the blazingly fast AF King, the Sony Alpha a9 II Mirrorless Digital camera body. ISO 1600. Exposure determined by Zebras with ISO on the rear wheel: 1/640 sec. at f/7.1 in Manual mode; RawDigger showed that the raw file was about 1/3 stop too dark. AWB at 8:59am on cloudy morning.
Expand Tracking Flexible Spot/AF-C was active at the moment of exposure and performed perfectly.
Click on the image to see a larger and inexplicably sharper version.
Image #1: Great Blue Heron at edge of canal

Your browser does not support iFrame.
GBH-Scape
I am not even sure why I took this image as it is the complete antithesis of my usual style — clean, tight, and graphic with butter-smooth backgrounds. Strangely, I like this detail-rich image. If you like it, please leave a comment explainig why. Maybe it will help me understand why I like it.
I rested the lens on the lowered car window and was a bit careless — the image needed 4.01 degrees of counter-clockwise rotation. Using the Ruler Tool (keyboard shortcut R), I drew a line from the bird's eye to the reflection of the eye and hit Command + / (my personalized keyboard shortcut for Image > Rotate > Arbitrary). The latter is one of my very favorite shortcuts.
I ran DeNoise AI on Auto and Sharpen AI on Auto on the whole image after it was leveled and cropped. I like to crop before bringing an image into DeNoise (or Sharpen) as that helps speed up the Topaz renderings just a bit as the plug-in has fewer pixels to work on.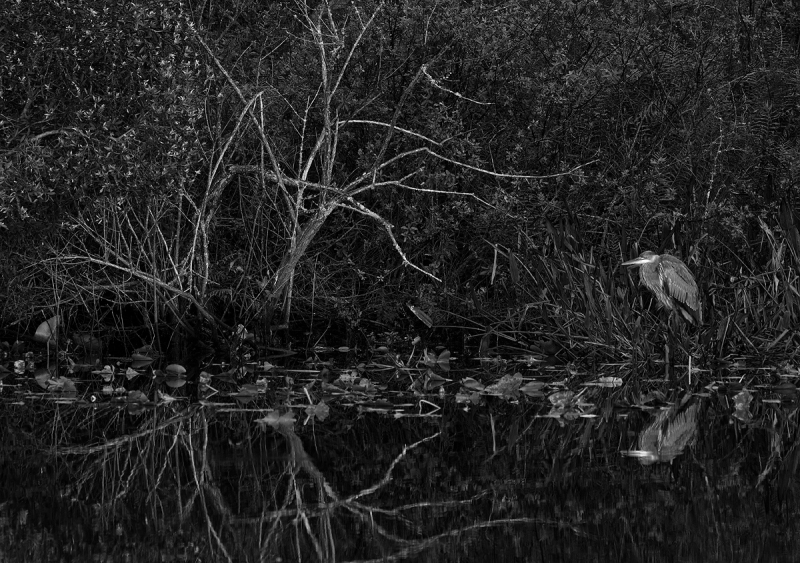 Click on the image to see a larger and inexplicably sharper version.
Image #2: Great Blue Heron at edge of canal black & white

Your browser does not support iFrame.
Black and White
My go-to black and white plug-in is NIK Color Efex Pro. I usually go with either 004 — High Contrast (smooth) or with 003- Wet Rocks. With this image, however, I opted for 001 — Underexposed (EV -1). Why? It is hard to put my finger on anything specific, it simply looked best to me. It was the first time I had ever chosen that particular pre-set.
Multiple Choice/Fill-in Color or B&W Quiz
1- I liked the color version best because __________________________.
2- I liked the B&W version best because __________________________.
3- I liked each image about the same.
4- You should have deleted both of them because __________________________.
The last time I ran such a quiz, not a single reader bothered to answer. Maybe the second time will be the charm..
Whatever you think, I think that either the color version or the B&W would make a great jigsaw puzzle …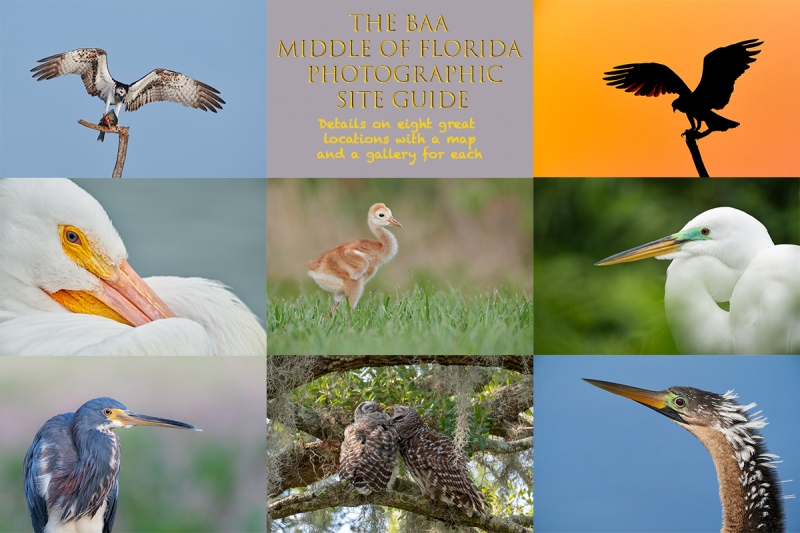 The BAA Middle of Florida Photographic Site Guide
You can purchase your copy here in the BAA Online Store.
The BAA Middle of Florida Photographic Site Guide
126 pages, 87 photographs by Joe Przybyla and Arthur Morris.
The PDF for this e-Guide is an electronic download sent via e-mail.
Purchase your copy here in the BAA Online Store.
I had thought about doing a guide to some of the great but little-known photo hotspots around central Florida for about a decade, but those plans never came to fruition. I met Joe online in the Avian Forum at BirdPhotographer's.Net about two years ago. Joe's photography has improved tremendously over the past few years; he credits the BAA blog, my books and PDFs, and his participation on BPN. The one thing that I learned right from the get-go about Joe is that he is a hard and tenacious worker, always striving to improve his skills and to grow his knowledge base. As he knew of more than a few good spots in central Florida, I broached the idea of us doing a photographic site guide that covered many of the little-known photographic hotspots from Brandon to Lakeland to Joe Overstreet Road to Indian Lake Estates (my Florida home for the past 20 years or so). After more than many, many dozens of hours of effort, The BIRDS AS ART Middle of Florida Photographic Site Guide is now a reality. Thanks to Joe's wife Dottie for her review of our writing. We all learned once again that writing is a process, a back and forth process. All thanks to the white pelicans of Lakeland. Here are the locations that are detailed in this e-Guide:
Indian Lake Estates: Sandhills Cranes with chicks and colts, lots of vultures, and Ospreys up the kazoo!
Gatorland, Kissimmee: Learn to make great images of wading birds in a cluttered rookery.
The Brandon Rookery: Great for nesting Wood Storks, Great Egrets, and more.
Circle Bar B Reserve, Lakeland: Here you will find a great variety of avian subjects in a great variety of habitats.
Lake Morton, Lakeland: There are lots of silly tame birds here including and especially American White Pelican during the colder months.
Lake Mirror, Lakeland: Tame Anhingas, Limpkins, and a zillion White Ibises at times.
West Lake Parker, Lakeland: Here you will have a chance for two difficult birds, Snail Kite, and Purple Gallinule.
Joe Overstreet Road, Kenansville: Crested Caracara, meadowlarks, Loggerhead Shrike, and many more on the fenceposts and barbed wire. Snail Kites at end of the road!
Each location includes a map, a detailed description of the best spots, best season, light and time of day instructions, the expected species, and an educational and inspirational gallery that is designed to open your eyes as to the possibilities.
You can purchase a copy here in the BAA Online Store.
Typos
In all blog posts and Bulletins, feel free to e-mail or to leave a comment regarding any typos or errors.